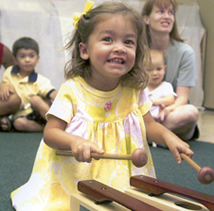 Daycare & Preschool Program
At Do Re Mi for Kids Early Childhood Music Education is our specialty.  We have qualified professionals ready to come and share the joy of music with your staff and students.
Our programs are age  appropriate and full of engaging activities designed to unleash the musical potential of your children.  We also ensure that your Kindergarten classes meet the standards set out in the Ontario Ministry of Education Arts Curriculum.
Music makes a difference!  If you would like to offer this exceptional program at your daycare or preschool, please contact us.