Infant and Toddler Music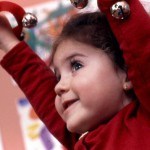 (children aged 8 months – 4 years)
Come dance, sing, play rhythm instruments and have fun with your little ones in our infant and toddler music classes. Research has shown that the most critical time in the child's musical development is from birth to age nine. We offer the Music Pups curriculum which is designed to help build your child's music vocabulary and to work on basic musical skills such as pitch, beat, and rhythm. Songs are chosen to expose your child to a large quantity of music and to include a variety of scales, rhythms, instruments, musical sounds, time periods, and cultural backgrounds. In Mississauga, Music Pups is offered exclusively at the "Do Re Mi for Kids" Studio.
Want to find out what it's all about …. come in and try a class!
You can also learn more about the program by visiting the Music Pups website at www.TheMusicClass.com
Our winter program begins on January 9th.  Classes will be offered on Tuesday morning at 10:45,  and on Wednesday or Saturday mornings at 9:30 & 10:30.  Registration is now open. Classes are filling quickly!
Again this session, we will be offering our Music Pups Plus class for 4-5 year olds on Saturdays at 11:30.