Introduction to Piano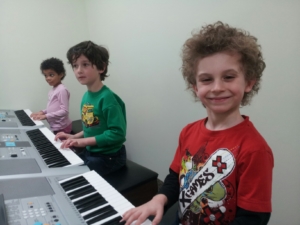 (beginning students of all ages 5+)
Piano lessons have never been this much fun!
Our Introduction to Piano is a four-year, class-based program.  Classes are small, with parents attending and participating in the learning process.  At the end of the four years, our students have a solid understanding of music.  They can play and harmonize by ear as well as improvise.  They are comfortable with complicated rhythms, and can easily participate in both rhythm and piano ensembles.  They have successfully completed their RCM grade 2 piano and the RCM Level 5 theory exam. In addition to the excellent Royal Conservatory of Music repertoire, our piano program utilizes material from the Musikgarten curriculum to develop playing and harmonization by ear, from the Christopher Norton  introduction to improvisation , and from the wonderful supplementary collections in the Hal Leonard student piano library. We can accommodate students who wish to join our program at any level….contact us if you are interested in trying a different way of learning the basics of music! Our instructors are all Music Education majors and certified teachers.  We are dedicated to providing your child with the best possible music education, not just instruction on an instrument.
Interested in finding out what the program is all about?  Classes begin again in Septmeber, but we will be offering  free trial classes throughout the summer.  Join us on Saturday afternoon at 1:30 on July 15th, August 12th, or August 26th.  Space is limited, so please contact us to register.